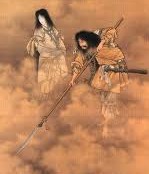 皆さん、今日は。
JEEPA認定英会話コーチのジョーンズです。
如何お過ごしでしょうか?
さて、今日のメルボルン、気温は現在16度で雨が降っています。
ちょっと肌寒いですね。。
皆さんのお住まいの地域の気候は如何でしょうか?
ところで、今年に入ってから週末を除いて毎朝、
サンフランシスコの藤原としえさんという35年のダンス経歴を持たれる先生のダンスクラスを
オンラインで受けています。
運動らしい運動をこの年までした事がないので、始めは続くだろうかと思いましたが、今では毎日の日課になりました。ステップも毎日やるので、身体が覚えてきている様で、踊るのが楽しくなってきました。
Facebook Group内でライブとして流れるので、身なりも整えて💕
朝、身体を動かすとその日一日ハッピーな気分でとても良いです。
心なしか、筋肉もついてきた様です💕
クラスの皆さんも日本、アメリカ東海岸、西海岸、カナダ、オーストラリア にお住まいの素敵な方ばかりで、
時差や距離を感じず、繋がってます。
皆さん、海外が長いので、英語と日本語が混ざり合って会話してます。😀
こんな素敵な繋がりを持てたり、コロナも悪い事ばかりじゃないなと
思っている今日この頃です。
只今、グループメンバーを募集していらっしゃるので、
ご興味のある方は是非、ご参加下さい(無料です。)!
Facebook group 名は Toshi's dance and fitness です。
さて、前置きが長くなってしまいましたが、今日は中田敦彦さんのYouTube大学の動画、古事記のご紹介です。
日本の宗教や歴史については、海外の方とお話する際、割と出てくる話題なので、ざっくり理解しておくと重宝すると思いますよ。
最近はボランティアの方々のご協力で、英語字幕がついている様です。
有難いですね~💕
如何でしたでしょうか。。
古事記は日本の神話で物語書だということ、ご存じでしたか?
このYouTube大学、キャラクターが乗り移った中田さんの喋りが面白いので、引き込まれます。
古事記はシリーズで4まである様です。
それでは、今日はこの辺で。
Have a nice weekend
Yumi
Hi,Everyone!
I'm Yumi, a JEEPA certified English coach.
How are you doing?
Today in Melbourne, the temperature is currently 16 degrees and it is raining outside.
It's a little chilly. ..
What is the climate in your area like?
By the way, since the beginning of this year, every morning except weekends, I take an online dance class
with a teacher named Toshie Fujiwara from San Francisco, who has a 35-year dance background.
I hadn't done any exercise like this until now, so I was wondering if I could continue at first, but now it has
become a daily routine.
She teaches us dance steps and we repeat them every day with different dance styles.
So it seems that my body is remembering the moves gradually, and it became fun to dance.
She is a very patient and great teacher who understands the physical body structure well.
If you join the Zoom room for the group, it will be played live within the Facebook Group.
So you are kind of forced to get ready properly. Which is a good thing for me since I got lazy to get ready
in the morning since Covid started...😅
Another good thing is since you move your body in the morning, you will feel refreshed and happy all day
long. I also seem to have gained some muscles.
All of my classmates are wonderful people living in Japan, the East and West Coasts of the United States,
Canada, and Australia, and they are connected without feeling the time difference or distance.
Some of them have lived overseas for so long, so English and Japanese are spoken in mixed ways which is
good to learn English internationally too. 😄
I guess Covid is not all bad and it's so wonderful to have such connections all over the world.
We are currently looking for group members, so if you are interested, please join us (it's free)!
The Facebook group name is Toshi's dance and fitness.
By the way, the introduction has become long, but today I would like to introduce Mr. Atsuhiko Nakata's
YouTube university video and It's about Kojiki.
https://secure-web.cisco.com/1nsN0GPlp2RSMqvYJreSHWeKqJBR4i56AbSjlbsvHiHuxyjU5RITORdeGLE2lCncMPhTOADEDyiA-dFY4pZ1n5UH1xNs6UHP8abRCU7NbyTIc6tRZPbBjsKN7q907o6rksxZXJF46SZIsyAHbIQ0S3oTA5laaBAKXle9btIO4Xj1e8_YZJyvZZnVDLqHsogwms3kJESJYjEId_jKIBxRa6ZuVK1iiQKAH3sT9MdbioyZePn-DCQ-lgvgqNXIwCB-bzZh0-r628GtHkH79BfbLfKPI1GhDC9m54h9g8JMBBfihgOJPpfT1SEin2kq0oiKM/https%3A%2F%2Fen.wikipedia.org%2Fwiki%2FKojiki
Since there are many occasions to talk about Japanese religion and history to people from overseas,
I think it's useful to have a rough understanding about it.
Recently, it seems that English subtitles are attached to those videos thanks to the cooperation of
volunteers.
Thank you for your effort to the volunteers ~ 💕
How was it? .. Did you know that Kojiki is a Japanese myth and a storybook?
The way Mr. Nakata's talks expresses each character well and his way of talking is so funny too,
so I enjoy watching it so much.
It seems that there are about 4 Kojiki videos in the series.
Well then, I guess that's it for today.
Have a nice weekend everyone!
Cheers
Yumi