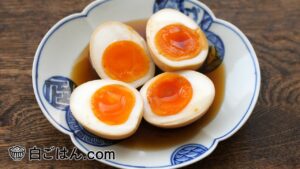 皆さん、こんにちは。
JEEPA認定英会話コーチのジョーンズです。
如何お過ごしでしょうか?
こちらメルボルン、今日のお天気は曇りで、只今の気温は11度です。
皆さんのお住まいの地域はどんなお天気でしょうか?
メルボルンのロックダウン、1週間の予定だったのですが、
もうしばらく、続く様です。
さて、今日のブログは半熟煮卵の作り方の良いレシピを見つけたので、
そちらをご紹介しようと思います。
こちらのShirogohan.comさんのレシピは実際に作っても美味しく出来るので、
お勧めなサイトだと思いますよ~。
大体の流れが出ているビデオはこちら↓
こちらはレシピです。
この半熟煮卵、ロサンゼルスに住んでいた頃、日系のお友達とラーメン屋さんに行った時の定番セットメニューでした。
お友達に作り方を聞かれたのですが、その時は良く知らなかったので、
今回こちらに投稿してみました。
美味しいですよ。
この半熟煮卵、ロサンゼルスのラーメン屋さんだけで出されてるかと
思いきや、メルボルンのラーメン屋さんでも良く出てくる様です。  
定番なんですね~。。
ではでは、今日はこの辺で。
良い週末をお過ごし下さい。
ジョーンズ
Hello everyone.
I'm Yumi, a JEEPA certified English conversation coach.
How are you doing?
Here in Melbourne, the weather is cloudy and the temperature is now 11 degrees Celsius.
What is the weather like in your area?
The lockdown in Melbourne was scheduled for a week at first, but it seems that it will continue for a while.
I wonder how long it will last this time..
By the way, I found a good recipe for making soft-boiled eggs, so I will introduce this in my blog today.
This recipe by Shirogohan.com is delicious and easy to make yourself, so I recommend this site.
Click below for a video showing the general flow of the recipe ↓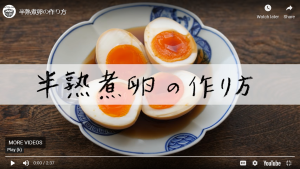 How to make a soft boiled egg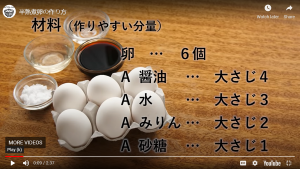 ingredients (Easy to make amount)
6 eggs
(A) soy sauce...4 Tbsp
(A) water...3Tbsp
(A) mirin...2 Tbsp
(A ) sugar...1 Tbsp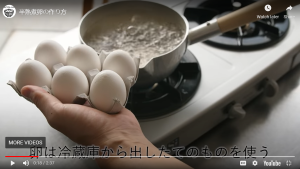 Use eggs that have just been taken out of the refrigerator.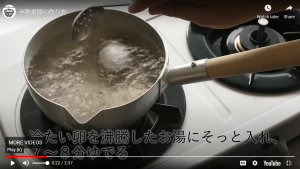 Gently put cold eggs in boiling water and boil for 7 to 8 minutes.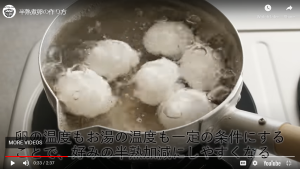 By keeping the temperature of the egg and the temperature of the hot water constant, it becomes easier to
adjust the soft-boiled egg to your liking.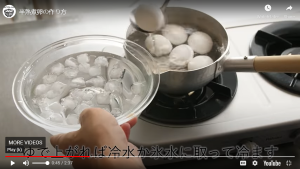 Once boiled, soak in cold or ice water. This stops the egg from any further cooking.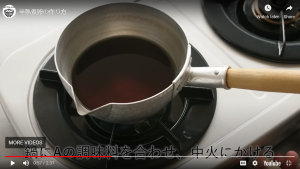 Add seasoning (A) to the pan and heat over medium heat.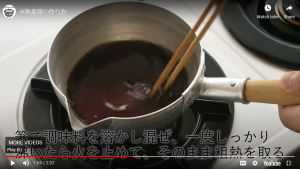 Melt and mix the seasoning with chopsticks, and once it has boiled well, turn off the heat and remove from
the heat.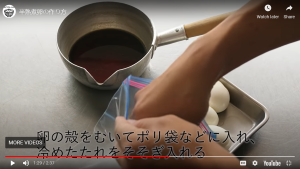 Peel the egg shells, put them in a plastic bag, and pour the cold sauce in.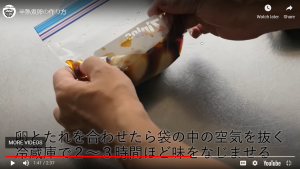 After combining the egg and sauce, deflate the air in the bag.
Let the flavor absorb in the refrigerator for 2-3 hours.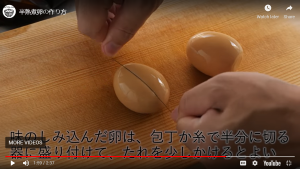 Cut the flavored egg in half with a knife or thread.
Serve in a bowl and pour some sauce on it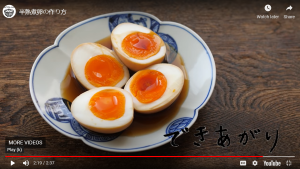 Done
This soft-boiled egg was a standard set menu item when I went to a ramen shop with my friends when I lived in Los Angeles. My friend asked me how to make it, but I didn't know at that time, so now I posted it here.
It is delicious. I wondered if this soft-boiled egg is served only at ramen shops in Los Angeles, but it seems
that it is often served at ramen shops in Melbourne too.
It's popular everywhere.
Well, that's it for today.
Have a good weekend.
Yumi